Ellie Johnson - From a Psychology Degree to Job Placements
Pubished 21st July 2022
---
We recently interviewed Ellie Johnson, a recruitment consultant within our New York team, to celebrate her three month anniversary with the InterQuest family. A psychology graduate with a passion for people and art, we asked her about her experiences here thus far: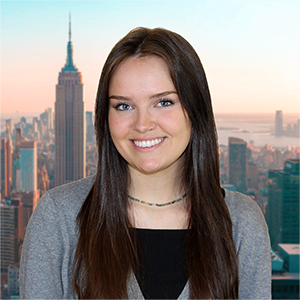 Why did you decide to join InterQuest?

"Having a degree in psychology as well as internship experience in talent acquisition, I've always been interested in learning about people's backgrounds and what has led them to where they are now. I knew that joining InterQuest would allow me to explore my curiosity and expose me to the tech industry, which I've always been excited about."
What projects have you enjoyed working on the most?
"I've really enjoyed working on iOS roles – a lot of these engineers have worked on apps that I've used myself and it's super interesting to learn about their day-to-day work. As an art minor in college, the design sector of tech is also of great interest of mine, and I'd love work on those roles in the future."
What are you passionate about in life?
"A lot of things – art, music, my pets, my friends and family, and traveling."
---
---