Meet our experts in ServiceNow
Pubished 23rd March 2022
---
Our Enterprise Service Management (ESM) team have been working in the IT services management (ITSM) space for over 15 years initially working with clients including Peregrine, HP, BMC and for the last 15 years, ServiceNow.

We work all over the US on permanent and contract recruitment and have bolstered teams and found key hires for companies such as Fujitsu, DXC, KPMG, PWC, Deloitte, Engage ESM (Atos), Devoteam, JIT to name just a few.
ServiceNow is a key growth market:
The ESM market is currently worth over $6.6 billion, and forecasts expect this to reach $6.8 billion by 2025. Cloud based vendor ServiceNow currently leads the pack with an overall market share of roughly 40%. Naturally, demand for roles such as ServiceNow Developers, business analysts, consultants with experience specifically using the ServiceNow platform has continued to increase over recent years.
Whether you're looking for a contract, interim or permanent role, we'll give you access to the newest, most in-demand ESM/ServiceNow jobs globally. Our team of talent experts hold both the relationships and industry insights to ensure we find the best fit for you.
Learn more about our services and browse our current roles available: https://www.interquestgroup.com/brands/interquest/esm-jobs

We recruit for a variety of specialisms across the ESM market including:
ServiceNow
BMC
Service Design and Transition
Service Delivery
Digital transformation
Our talent expertise means that we have the relationships, insights, and knowledge to build out the capability of Digital, Data and Tech teams, enabling the emergence of a workforce that thrives in the digital age. Our strong client base ensures we can find the right environment and role for you. Our talent experts hold un-rivalled knowledge within the ITSM industry and specifically the ServiceNow space.
Looking for ServiceNow recruitment?
By pairing our in-depth recruitment experience and industry knowledge with a deep specialism in ServiceNow specific markets we can propose high-quality and bespoke solutions and have an unrivalled record for delivering them.
Our extensive and robust candidate networks within the ServiceNow space, comprising both active and passive talent, allow us to provide the highest demand and niche skills. Through learned experience, our talent experts understand how to use technological advancements alongside talent analytics to enhance our ability to tackle organisational challenges related to the engagement, acquisition, and retention of today's top talent.
Our comprehensive range of talent acquisition services cover permanent, contract, interim and fixed term. However, success in the digital world demands new ways of thinking, especially when it comes to talent. Whilst we work with organisations to grow their core workforce, we also provide access to the alternative labour (freelance/ independent workers, gig and crowd workers) that will become so critical to the increasingly agile workforce of the future.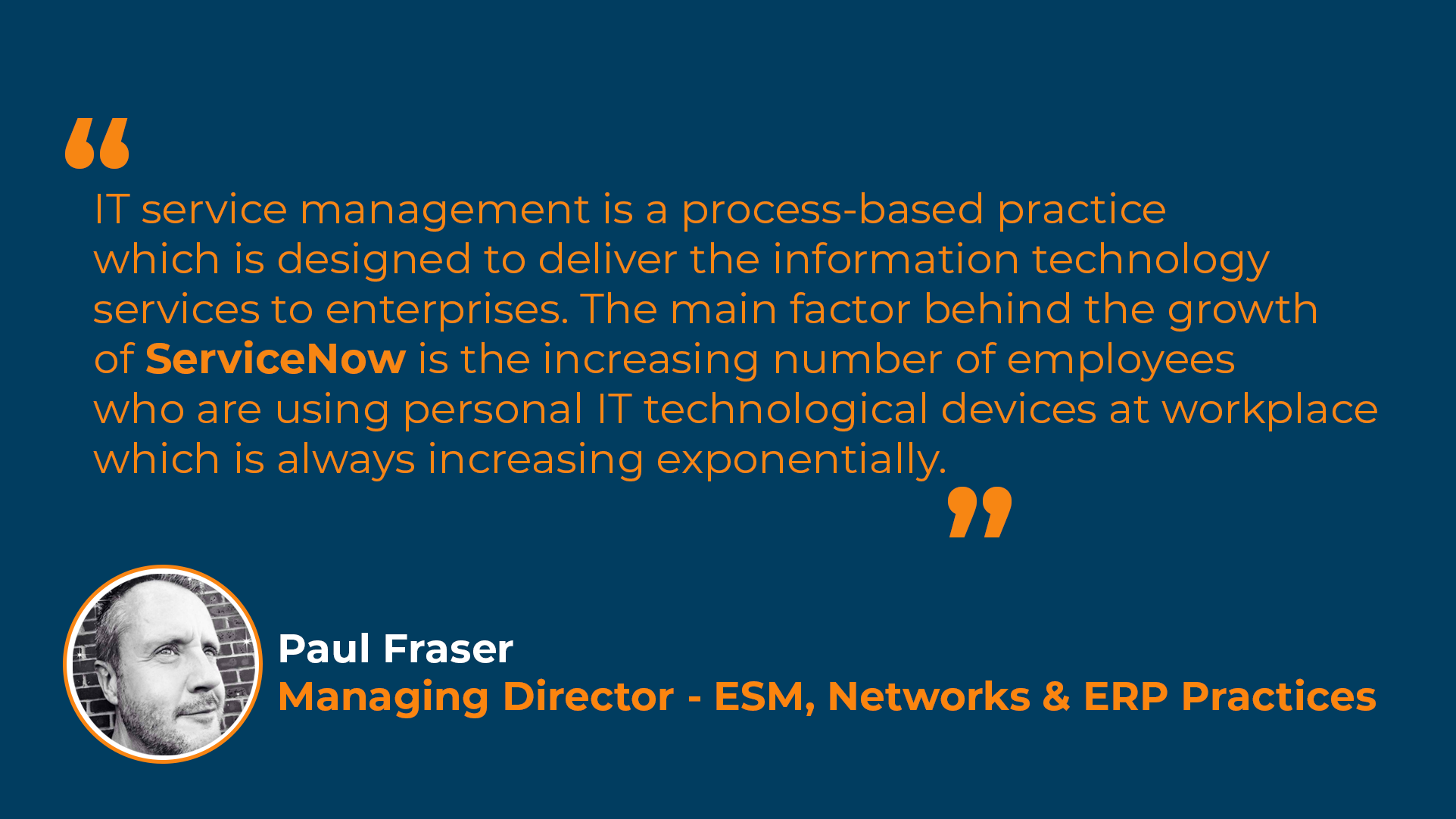 Interested in finding out more? Reach out to our experts:

Tom Leathers, Business Director, ServiceNow
Telephone: 01442 509 066
Mobile: 07734 450 032

Email: tom.leathers@interquestgroup.com

Paul Fraser, Managing Director, ESM, Networks & ERP Practices
Telephone: 01442 509 071
Mobile: 07826 913 400

Email: Paul.Fraser@interquestgroup.com
---
---